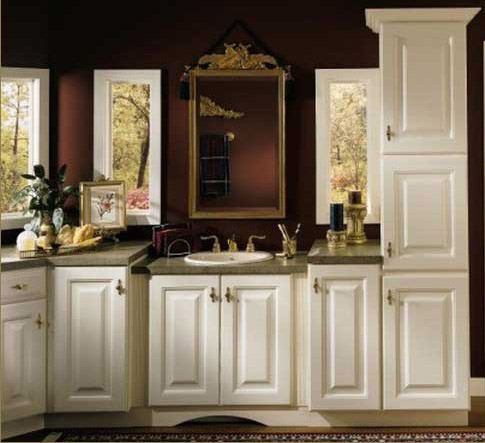 For more than 100 years, the vanity has been the basis for bathroom design.  Prior to the days of indoor plumbing, the vanity took the form of a wash stand.  It was more dresser than anything else, but it held the pitcher of water and the wash bowl that was the origin for the modern vanity cabinet.  Over the years, designs evolved to hide exposed pipes and shut-off valves, they also served as the foundation for today's sink.
Later these vanity cabinets evolved into larger models in order to provide needed storage space for toiletries, linens and a variety of other items.  Along with increased capacity for storage and the addition of other functionalities, bathroom cabinets began to acquire a little bit of style.  This evolution continues as vanity cabinets have become more attractive, more functional and more stylish.
Today vanity cabinets form a focal point for bathroom décor and design, they are not simply a way to hide pipes and drains.  Bathroom cabinets match the style of a home, the decorating preferences of homeowners, regional style preferences and the recent trend toward greater luxury with special spa features and ambiance.  With this evolution in style and luxury has come the increased size of the room. Today's bathrooms are beautiful, functional, luxurious and bigger than ever!
Whether a bathroom is small, sleek and contemporary in style or a mid-sized master bath designed for two, or a large spacious spa-featured bathroom, there are a multitude of vanity cabinets in appropriate sizes, styles, color and finish.
Consider some of the features and characteristics available in bathroom vanities:
Multiple coatings of polyurethane to protect the wood from dampness
Simple, Modern with clean lines
Reproductions of elaborate antiques
Corner units
Units with rounded fronts for extra storage
Moveable interior shelves
Drawers with organizing inserts
Styles for any type of sink installation
Variations in height to accommodate everyone's ergonomic needs
Two depth options for small and large rooms
Single and Double sink units
Double sinks of different heights and with (or without) a lower counter area with a chair or bench seat
Fronts with traditional cabinet doors and units with glass or frosted glass doors
Units with open shelving
Custom vanity cabinets that form a complete bathroom suite of storage spaces, i.e. a traditional sink base vanity with bookend bathroom 'pantry's.
Pull-out shelves that make it easier to reach items in the cabinet back
By working with your local cabinet professional it's possible to have any configuration of vanity cabinet with any type of storage and shelving, drawer or sink imaginable. They can help you design and create a luxurious and beautiful bathroom that is relaxing and beautiful while easily serviced and maintained. In short, today you can have any kind of vanity cabinets you want in any material you choose, with any finish you select.